Sartu Álava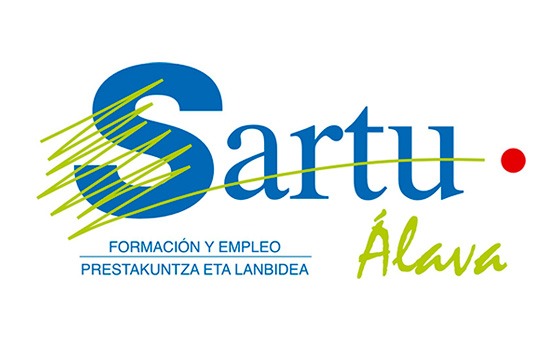 Information, guidance, increases in personal motivation and social support.
Socio-educational and psychosocial activities.
Training:

Socio-educational.
Non-official Technical-Professional, with practicals in the work environment.
Access to employment.

Access to employment:

Employed by others.
Positive Effects Discrimination in labour intermediation in the work place.
Labour mentoring during the work experience.
Self-employment.
Support for the creation and maintenance of the self-employment processes.
Support and / or participation in the creation of social and solidarity economy structures.
Promotion, support and / or participation in the creation of social and solidarity economy organizations.
Promotion of insertion companies.

Promotion dynamization processes and community development.
Social participation and volunteering
Sartu Álava is a private non-profit association that operates in the social services sector and with the aim of combating marginalization and social exclusion. Our scope of action is the Historic Territory of Araba.
Since our beginning in 1992 when we started work, we have always understood our service to be an additional public service in the network of community services for social support, which we intend to serve as a complement and support, in a spirit of collaboration and cooperation.
Our aim is to promote the necessary changes in the individual and in social and labour environments to reduce or eliminate situations of social exclusion. To this end, we try to combine intervention strategies aimed at the inclusion/insertion of individuals, with others intervening in their environment, aimed at provoking structural changes in social environments that favour the existence of exclusion situations.
Our actions are addressed to any individual who manifests the need for support for their social inclusion.
The activities we develop are related to:
Providing support to people to help them develop in a more advantageous way in their personal, social and work environment, encouraging the development of their personal, professional and interrelated skills, always based on their own potential, expectations and interests.
Working with the social environment to create new possibilities for individuals and society to come together favoured by dynamization and community development approaches.
To promote the existence of other models of labour relations that allow the key role of the person in the economy with alternative, solidarity and responsible values to be recovered.
We have been declared an entity of Public Use and Social Interest and we have been recognised as an equal opportunities collaboration entity by Emakunde since December 2007.
contact details
Portal del Rey, 20 Bajo
01001 Vitoria-Gasteiz